Food allergies or intolerances?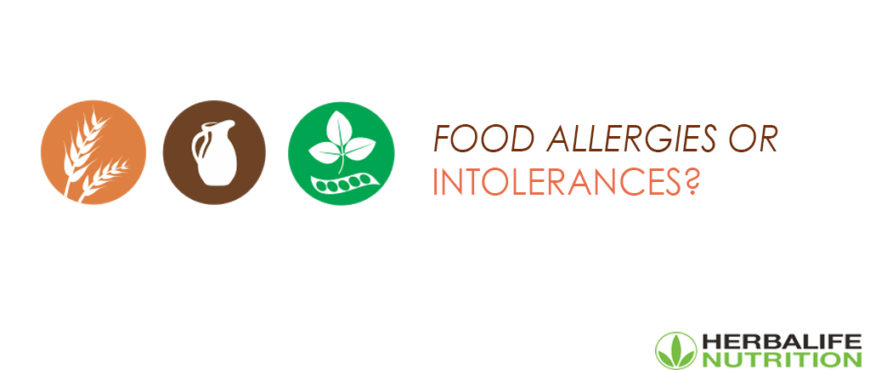 It is increasingly common to hear these terms and more common is to confuse their meanings. Being important to be clear about the differences between a food allergy and a food intolerance, we will help you clarify these concepts for better nutritional management.
Food intolerances occur when the body can not properly digest certain foods or any of its components.
Food allergy, however, occurs when a particular food or one of its components activates the immune system. It means, our body identifies that food as a threat – what we call allergen – and, therefore, it generates antibodies to neutralize and eliminate it. Usually these allergies take place when the body's immune system does not work well.
SYMPTOMS OF FOOD ALLERGIES
Some allergic reactions can take hours or even days to develop. And although normally most allergic reactions are relatively mild, such as: nasal congestion, sneezing, coughing, rashes, itching, swelling, abdominal pain nausea, vomiting and diarrhea; there are a small number of people who may experience life-threatening reactions called anaphylaxis.
MOST COMMON ALLERGIES
The most common allergies are: cow's milk, eggs, soy, gluten, crustaceans, fruits, peanuts and nuts. Allergies to egg and cow's milk may disappear in children after age three, but allergies to nuts, legumes, fish and shellfish usually remain throughout the life of the individual.
CELIAC DISEASE
Gluten intolerance or celiac disease (CD) is estimated to be 1% of the population, which is more common in women than in men (twice as many).
It is an autoimmune disorder that mainly affects the small intestine and incapacitates it to digest gluten. Gluten is a protein found in wheat, barley, oats and rye.
Foods containing gluten: bread and wheat flour, rye, barley and oats; Italian pasta, soup pastas, biscuits, muffins and pastry in general; wheat semolina; manufactured products in the composition of which any of the aforementioned flours; malted foods; chocolates (unless expressly stated by the merchant); infusions and beverages prepared with cereals: malt, beer, barley water.
HOW TO PREVENT ALLERGIES AND INTOLERANCES?
In the case of food intolerance, it may be sufficient to limit the size of the rations consumed from the food, to avoid the symptoms.
However, the only way to prevent allergic reactions in sensitive people is to eliminate such food or component from their diet or their environment.
It is also important to ask about the ingredients and culinary methods employed when eating away from home, to avoid foods that cause problems.
HERBALIFE NUTRITION
To offer consumers a choice, Herbalife Nutrition has developed a range of gluten-free products, including our Formula 1 Healthy Eating Nutrition Shake Mix.
The Formula 1 Free is a nutritional drink with the same benefits as the original but free of the most common allergens like gluten, lactose and soy, providing an excellent balance of high quality pea protein, essential micronutrients and herbs and botanical ingredients added.
Here is a list of our products certified as gluten free:
Formula 1 Healthy Eating Nutritional Blend for Whipped
Custom Protein Powder
Protein Drink in Powder
Original Aloe Concentrate
Herbal Concentrated Tea
We hope this article will help you manage your condition in the best nutritional way, and know that at Herbalife we have options for you.
No Results Found
The page you requested could not be found. Try refining your search, or use the navigation above to locate the post.
Ronny Schürch
Ronny Schürch, Herbalife Nutrition Independent Member


Ronny Schuerch
Herbalife Nutrition Independent Member
Post office box 4242
4002 Basel
Switzerland
Tel: +41 58 255 06 59
Email: contact[at]herbalino.com
What Herbalife makes for me?
Herbalife Family Foundation (HFF)
Herbalife career opportunities
Frequently asked Questions (FAQ)