Basic skin care for the face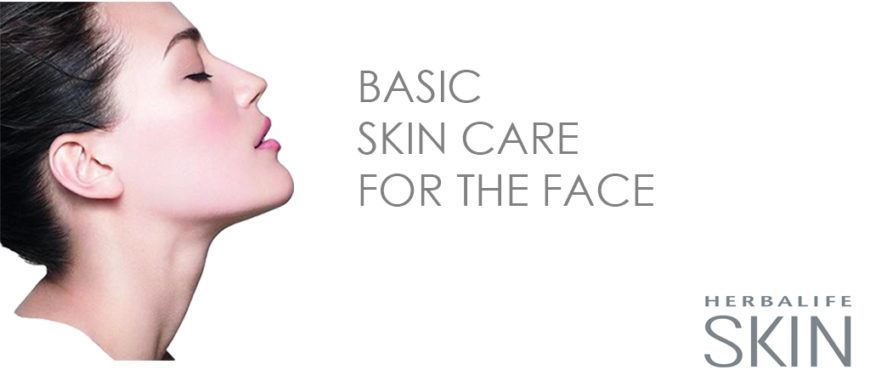 The face is our cover letter, and its skin as it is always exposed is more susceptible to damage caused by the environment. That's why it needs daily care to keep it radiant and fresh. We have created this basic guide for facial skin care that you should not ignore if you want to keep shining.
The first thing you have to take into account is your skin type; greasy, dry or mixed, this should be your starting point for choosing the products that you will use in your daily routine.
A good cleansing: A terrible and common mistake is washing your face with the same soap that you wash the rest of your body. The high pH of normal soaps is too aggressive for facial skin, making it dry, scaly and prone to acne, wrinkles and fine lines. Herbalife Skin Cleansing Gel cleans the dirt from your skin without irritating it while leaving it soft and luminous.
Tonic Facial: The tonic refreshes the skin while helping to remove impurities and remains of makeup that may have been left after cleaning and prepares your face for moisturize. Herbalife Skin Revitalizing Toner with citrus scent, provides moisturize and refreshes your skin. Use it twice a day, at night and in the morning.
 Moisturizing: It doesn't matter if your skin is dry or greasy, environmental factors such as cold or heat can cause the skin to lose its natural moisture, making it more prone to the appearance of wrinkles and blemishes. Therefore moisturizing the skin is essential to keep it luminous and prevent aging.
Sunscreen: Sunrays called UVA and UVB (ultraviolet rays) cause in short term changes like sunspots and sunburns, and in the long term, premature aging of the skin and the possibility of skin cancer. That is why it is of great importance to use sunscreen if you are going to be exposed to the sun. Herbalife Skin Sunscreen gives you a high protection of 30 FPS while moisturizing your skin giving it a long lasting silky smooth feeling.
Exfoliation once or twice a week: Exfoliation removes dead skin cells leaving a soft and smooth new skin. It also leaves the skin in optimal conditions to receive another treatment such as a mask or moisturizing. The Herbalife Skin Scrub deeply cleanses your skin, leaving it fresh and revitalized.
These are the basic cares to keep your face skin healthy. Find out all the product that Herbalife Skin has to keep your skin radiant.
No Results Found
The page you requested could not be found. Try refining your search, or use the navigation above to locate the post.
Ronny Schürch
Ronny Schürch, Herbalife Nutrition Independent Member


Ronny Schuerch
Herbalife Nutrition Independent Member
Post office box 4242
4002 Basel
Switzerland
Tel: +41 58 255 06 59
Email: contact[at]herbalino.com
What Herbalife makes for me?
Herbalife Family Foundation (HFF)
Herbalife career opportunities
Frequently asked Questions (FAQ)